Hello everyone!! I'm back with another random post that I am giving you to hold you over until I can have a long period of time where I can crank out some actual anime related blog posts and not my random shenanigans. So the reason for this busy schedule is that I have started my second year of college…..yay…….. Anyway so I have been super busy with getting ready for classes and moving into my dorm/apartment. It.Has.Been.Crazy. So I wanted to tell you guys about the adventure that has been my first week of college. Told through a whole bunch of memes and gifs. Enjoy!!
So I have class basically everyday, which isn't too bad. I had mainly Tuesday and Thursday classes last year and I was pretty burnt out by the end of those days. So I decided to spread them out a little bit. I live in a dorm/apartment type thing that is owned by the university so I still live in University Housing except I cannot just walk to campus. On Monday I decided to drive. Boy that was a mistake.
I guess I should not have expected it to go too well because the college I attend has a lot of commuters. Like more than half of the students drive to campus everyday. I'm still considered to be living on campus so there is not a lot of spots for me to park in. I thought I was going to get hit looking or a place to park. I get a little bit of anxiety when driving anyway so this made it ten times worse. When I eventually found a spot I had to run to my class because I was going to be late if I did not. I had not planned on driving around for an extra fifteen minutes.
So the rest of my Monday went on normally. Tuesday I made the ultimate decision to ride the bus to school. Something I have never done in my entire life. I always lived within walking distance to school so I was pretty excited. On Tuesdays and Thursdays I have an 8:00 class (which is already a struggle) so I woke up early to catch the bus. Thankfully my college has a bus service that goes through the apartment area that I live in and has four stops that the bus can pick you up at. So there I was waiting for the bus.
No Totoro didn't show up but the bus stop is a little sketchy looking. If the bus had actually ran on time it would have been a whole lot better. They "supposedly" run every 5-10 minutes but you know public transportation. That never happens. I think that the worst part was that the bus took so long that there was  A LOT of people trying to get onto one bus. Finding the right place to stand or even better yet sit was really a struggle.
I make the way to school, after the most anxious ride of my life, and I finally get to class. The first one went okay and I moved on to the next one. The teacher kept rambling on about U.S. government conspiracy theories and informed us that we were all uneducated idiots who were being sold into slavery by the government……okay.
And although he encouraged us to voice our opinion, when another student did he argued with him and called him stupid and uneducated. Needless to say I, along with a lot of my class, are switching to a different section. Once that was finished I was on the bus again and headed for home. When I am at my actual house my Mom does a lot of the cooking because she does not trust me with the stove. At my apartment though, I have to fend for myself. You know. Because I'm an adult…..HA!! 
So I eventually make it back to school for my night class…..which I happen to have with my roommate last year. Who will not talk to me. There is only thirty people in the class and she sits three seats down from me…..but will not talk to me. What? When we moved out of the freshman dorm we were on good terms. I guess I must have upset her or something. It is not like she has not seen me. It is a small class. She is flat out ignoring me.
Whatever. I do not care. Be that way. I do not need you. Moving on! So the rest of the week was pretty uneventful. I went to class. Got to ride the bus. And at the end of the day I went home. It does not seem like a lot but little things happened between everything and I hardly had any time to just sit and breathe. But then Thursday night rolled around and I made a horrible discovery. If you have seen this I put it on twitter earlier today, but it was taken on Thursday. It is a terrible sight to behold.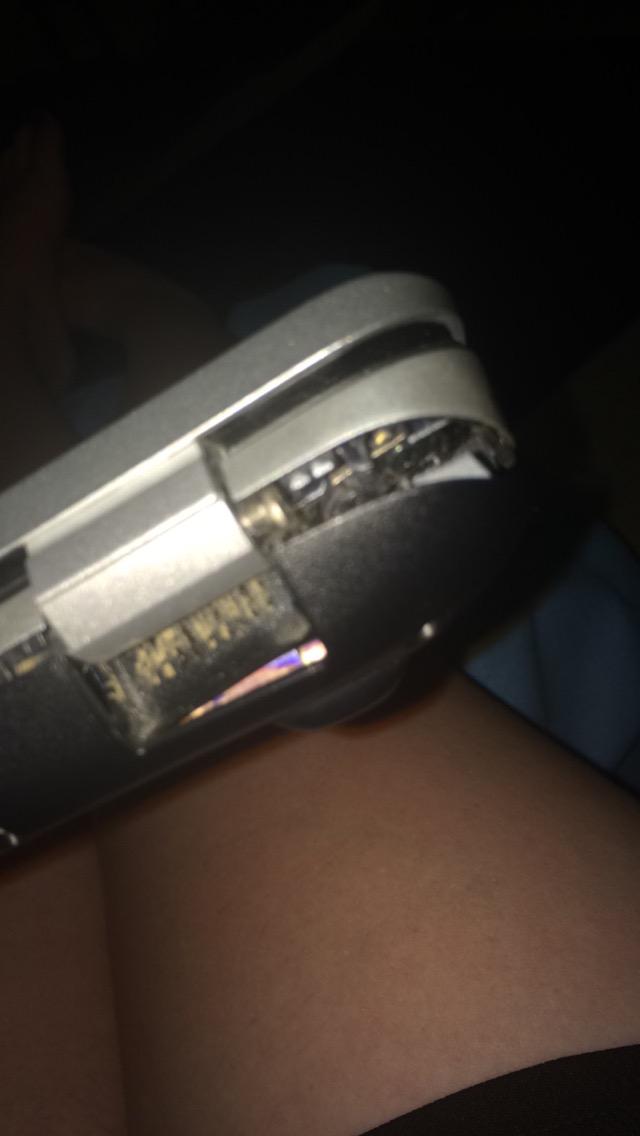 I legitimately almost cried. The hinge on the back that holds the screen. Yeah it broke. Thankfully I went home and my Dad was able to kind of fix it with some super-glue and some new screws but it is still a little sketchy. I may or may not have to get a whole new computer…..which is wonderful. I am just trying to pay for school supplies and groceries, but now I have to either pay $200.00 to get this "maybe" fixed or buy a whole new computer. Ugh the struggle. It really kicks a blogger (and avid internet fan) right in the shin when their computer does not work. What am I supposed to do with myself. But that is a problem for another day.
And that is what I have been up to this past week or so. I have not fallen off the face of the planet, although I feel like I have. I just wanted to post some randomness about the struggle that I have had. I mentioned in my post earlier today….just a little bit ago actually….that I had a whole bunch of posts in my drafts and I am working on finishing them. These two were both near completion so I decided to finish them before I got super busy again. Two blogs are not bad either, right? Be sure to watch as I clean out my draft folder and all of the ideas that are in my head right now.
See you next time!!