It's NaBloPoMo Day 7 guys!! So after yesterday I started thinking about the answer for today's question because I knew it would also require a lot of thinking. I really did not think that originally this would cause me to think so much. I mean I knew I would have to think a little but I think I have just read so much manga in my life that it is hard to pick just one. Yeah….that is why….moving on.
So after really thinking through some manga that I originally disliked enough to stop reading I am going to really go out on a limb here. Mostly because I tend to not remember the ones that I stopped reading. Hahaha. But there is one that I stopped reading just because I got tired of how long the story dragged on.
Here is my answer for NaBloPoMo Day 7!! The Manga that I Disliked Enough to Stop Reading is…..
The Bride of the Water God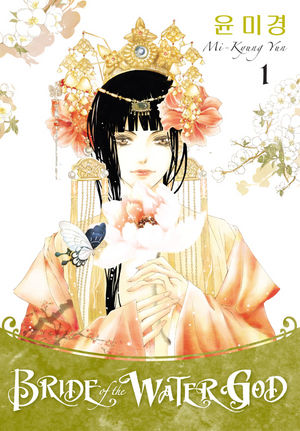 First I am just going to be honest and tell you that I did technically cheat for today's answer. "The Bride of the Water God" is not technically a manga, it is actually a manhwa. However, this is the only story that I could think of that applied to answer today's question. So this is the answer that I am going with. It still kind of applies, right? Oh well too late now. Moving on!
Now originally I was a really big fan of "Bride of the Water God". I thought the plot of a girl being used as a sacrifice and then ending up in the land of the gods was really neat. I enjoyed seeing all of the gods and how they interacted with one another. There were also points in the story when it would get dark and dramatic, which I really enjoyed. The reason that I stopped reading it though was that I always felt out of the loop. The characters always seemed to be one step ahead and never fully explained why they did what they did. I was constantly confused and wanting to be filled in more on what was going on. Another thing that I did not like was that there were way too many minor story arcs going on at one time. Just as I would start to understand the main story line they would introduce a minor story line, and then another. Before you knew it four or five story lines had gone on and the major plot still had not been solved. They story just felt to dragged out and I just began to lose interest. It did not necessarily dislike it, but I just lost interest. That was all. 
So that is all that I have for today!! What do you all think? Was there a manga that you disliked enough to stop reading? Which one was it? Let me know down in the comments below!!
See you tomorrow!!
Here is the link to check out the answers for all of the days:  NaBloPoMo: 30 Day Manga Challenge